So you and the kids are ready to get creative, but what to do?
I have found checking websites (search preschool arts and crafts and many sites pop up) to be inspiring, but can slow down the immediate – "I want to make something now" mood. By simply providing a work space with a variety of materials, and playing some back ground music such as; classic, reggae, jazz or upbeat rock n' roll, you'll be good to go!
Start with cups of water, watercolors, brushes and a stack of paper – simply allow the kids to paint as they see fit. Offer comments on use of color, use of space or a particular brush stroke, but stay away from the guessing games of what something actually is – if you guess wrong your artist's feelings may be bruised.
Are you ready to try more? Bring out the tempera paint! If you have opted for the powdered variety let the children help mix the paint powder with the water. Offer lots of brushes and a paper towel for brushing off the excess water and paint. Then just allow them to get creative. On another day if you're feeling more adventurous try lighter or darker tones.
Good weather? Bring the paper and paint outside or try painting rocks or your driveway (it should all wash off next rainstorm). Looking for that fancy finish? Try sprinkling a finish piece with glitter or for a different effect – mix some glitter right into the paint.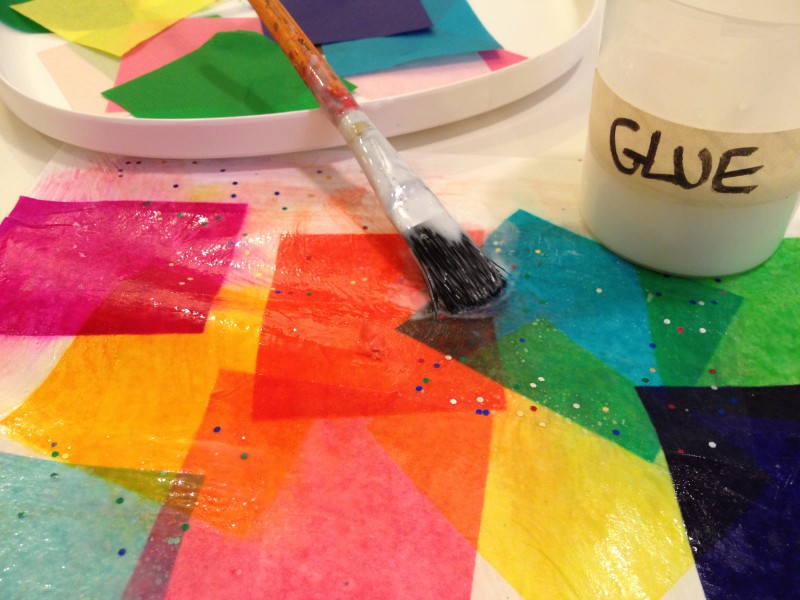 Not in the mood for paint? Pull out the scissors and let the kids cut up paper strips, wrapping paper and colored paper. Using Glue sticks add glue to the ends to create 3-D arches on the paper. Layer tissue paper and glue to create a colored masterpiece – for a neat effect – try gluing tissue paper to wax paper and hang in a window once it is dry. Glue smaller pieces of paper onto a large one and talk about size, color and height.
For a nifty centerpiece decorate a toilet paper tube all over with paper. For a cool finishing effect – gently dab on some white glue and add a pinch of glitter to the wet glue.
Kids quite often are just as happy creating and doing the project in the "here and now". They enjoy the process of using the materials, perhaps more so than an actual finished project. So get those materials ready and give your young artists space and time to create!
Jane Rotondi has a Master's degree in Special Education, a Child Development Associate certification and holds additional teaching certificates in Early Childhood Education and Elementary Education. She is the Museum's Outreach Manager and Director of Summer Camps. You can contact her at jane@childrensmuseumineaston.org.
Get more stuff like this
Subscribe to our mailing list and get interesting stuff and updates to your email inbox.
Thank you for subscribing.
Something went wrong.